Abu Dhabi is booming with record GDP growth as non-oil contributes 50 per cent
The Abu Dhabi economy is the fastest growing in the Middle East and North Africa, with a remarkable 9.3 per cent growth last year.
Non-oil sectors contributed 50 per cent of GDP last year, with real estate, healthcare and real estate all contributing to significant growth.
The Statistics Centre – Abu Dhabi (SCAD) announced GDP for 2022, reporting strong growth across various sectors.
Abu Dhabi's growth is attributed to its robust economic framework, coupled with a collaborative approach from both the public and private sectors.
Abu Dhabi economy booming
The emirate has solidified its international position and retained its competitive edge, while also maintaining a stable macroeconomic environment.
It also reflects the success of Abu Dhabi's diversification strategy efforts led by the Abu Dhabi Department of Economic Development, (ADDED) which included nurturing a business- supportive environment, a robust regulatory framework, and unparalleled connectivity and infrastructure to enhance its capabilities to achieve a sustainable and smart economic development.
The emirate has been taking strategic steps to diversify its economy while maintaining a prudent fiscal policy and progressively responding to the market needs and trends.
The past year has seen initiatives to enhance legal and regulatory frameworks to encourage foreign direct investment and promote its domestic investments.
Additionally, the Abu Dhabi Industrial Strategy (ADIS), launched in June 2022, plays a major role in diversifying the emirate's economy.
ADIS aims to strengthen the emirate's position as the region's most competitive industrial hub by investing AED10bn across a number of programmes to more than double the size of the sector to AED172bn, create 13,600 new jobs, and increase the emirate's non-oil exports by to AED178.8bn by 2031.
Ahmed Jasim Al Zaabi, Chairman of the Abu Dhabi Department of Economic Development (ADDED), said: "The continued strong performance of Abu Dhabi's economy is a testament to the leadership's farsighted vision and effectiveness of economic diversification strategy which champions public-private partnership and incentivises foreign and domestic investments.
"Abu Dhabi's 'Falcon economy' is characterised by growing, liberalised, and diversified economy, and driven by a strategic vision that places sustainability, social and human development at the top of its priorities, and we will further accelerate and enhance efforts to benefit from digital transformation, innovation, and advanced technology in economic and social plans."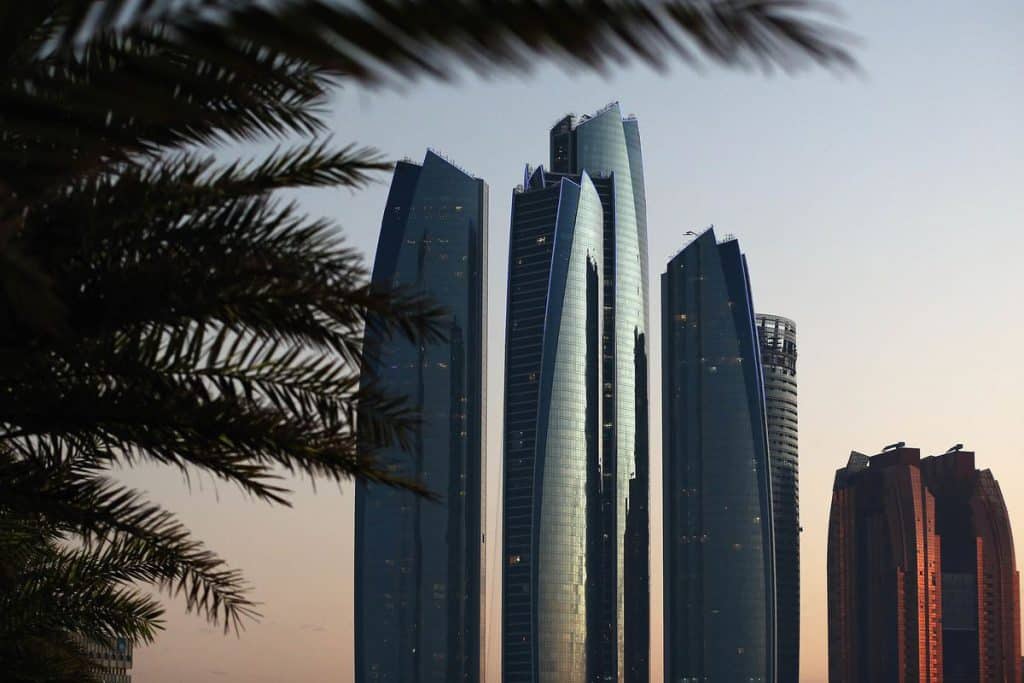 Abdulla Gharib Alqemzi, Acting Director General of the Statistics Centre – Abu Dhabi, said: "Abu Dhabi has achieved remarkable growth rates in its non-oil gross domestic product, registering a remarkable 8.4 per cent increase by the end of 2022.
"In light of GDP 2022 estimates, all economic sectors displayed notable growth, particularly the major economic sectors. This exceptional performance indicates a promising and robust economy, laying a strong foundation for a prosperous future."
According to the estimates issued by the Statistics Centre – Abu Dhabi, Q4 2022 real GDP achieved a growth of 5.9 per cent worth AED278.3bn compared to the same period in 2021. The contribution of non-oil sectors to GDP reached 50.2 per cent to record AED139.6bn of the GDP total value during Q4 2022.
Abu Dhabi economy growth
According to 2022 GDP estimates, non-oil sectors witnessed a notable growth of AED43bn, bringing the total to AED554.6bn by the end of 2022.
This resulted in the non-oil sectors contributing 50 per cent to the GDP.
Real estate up 17.1%: This growth is due to the increase in real estate projects during 2022, and the interest of international businesses to invest in this strategic sector.
Health and social work activities up 16.6%: There have been serious endeavours to strengthen the health system in accordance with the highest international standards and to enhance the role of the private sector in providing best-in-class health services.
Wholesale and retail trade activities up 11.6%: This growth indicates the sector's significant contribution of 5.3 per cent to Abu Dhabi's real GDP in 2022, reflecting thriving growth in local markets.
Transportation and storage activities up 10.9%: The sector activities exceeded AED18.6bn in 2022. It comprises several activities, including passenger and cargo transport by rail, land, air, and sea means and related storage activities.
Accommodation and food service activities up 11.9%: There has been a clear sign of the thriving tourism industry in Abu Dhabi, solidifying its position as one of the world's most popular tourist destinations.
Manufacturing activities up 9.7%: This sector reached AED90.8bn and growth is expected to continue, benefiting from Abu Dhabi's ambitious industrial strategy, which aims to drive economic growth and contribute significantly to enhancing the emirate's trade with international markets.
Construction activities up 7.6%: With a value of AED86bn, this growth indicates the sector's significant contribution of 7.8 per cent to Abu Dhabi's real GDP in 2022.
Finance and insurance activities up 7.4%: The confidence of the global community in Abu Dhabi's economic potential has established the Emirate as a preferred destination for investors, entrepreneurs, innovators, and other professionals from all corners of the world.
This Article was Originally published on: https://www.arabianbusiness.com/